Honorary Professor, Rex Tyrrell from the Department of Pharmacy & Pharmacology celebrated his recent retirement from Bath.
Rex is a double alumnus of the University (BPharm 1968, PhD 1971) and returned to Bath with a personal Chair in 1996 after working in the USA, Brazil and Switzerland.  He has had a career-long interest in the molecular biology of sunlight and recognised early on that, as well as directly damaging DNA, sunlight constitutes a major oxidizing challenge to cells and tissue.
In the mid-1980's, while working as a senior, tenured scientist at the Swiss Cancer Institute, he discovered and characterised a major new stress protein response induced by solar Ultraviolet A radiation in human skin cells.  The protein involved turned out to be the driver of a major anti-inflammatory response in humans.  This work led to many new exciting directions but Rex has maintained to this day his central interest in sunlight effects in humans, and the role of antioxidants.
Retirement for Rex is only from University responsibilities as he continues as Editor-in-Chief of a Royal Society of Chemistry Journal, is active as immediate past-President of the European Society for Photobiology, and is on the central organising committee of the 2019 World Congress on Light and Life to be held in Barcelona in late 2019. Nevertheless he is enjoying having more time for gardening, walking in the countryside, his motorhome and even some windsurfing, not to mention time with his family, now counting four grand-children.
Family, friends and colleagues gathered at the Packhorse Inn in South Stoke. including most of the professors from the Department and other colleagues who he has collaborated with, including Dr Vivienne Winrow, Professor Sofia Pascu (Chemistry ) and Professor Dylan Thompson. Friends from outside the Department included Professor Barry Potter (now at Oxford University), Helen Thame (who continues to work part-time for Rex on his scientific journal and other activities) and Dr Stephen Moss who joined the University 50 years ago as a pre-registration pharmacist at the same time Rex started his PhD.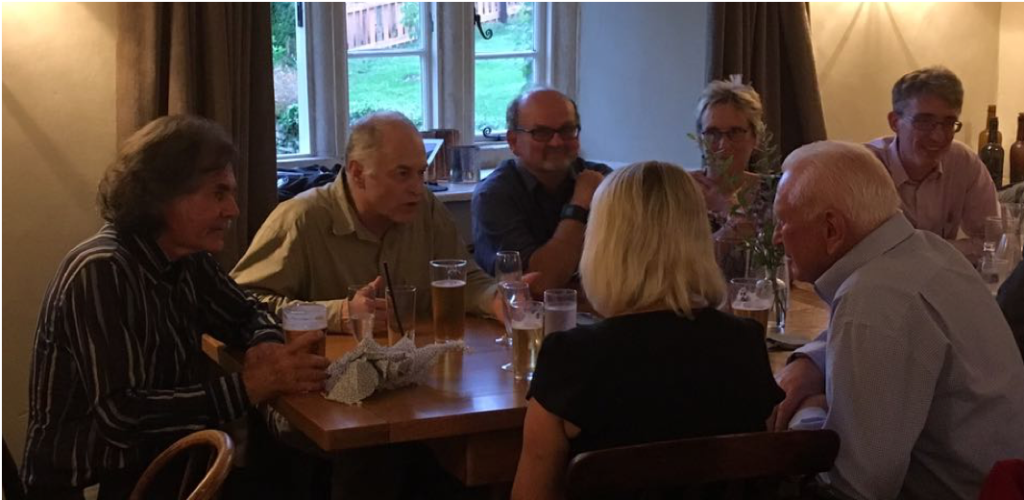 Professor Randy Mrsny presented Rex with a card signed by all, with some most appreciative comments, and a pair of binoculars, having recognised their great value to a windsurfer and an increasingly avid bird-watcher.
Well relaxed by a sampling of Packhorse ales, Rex expressed his gratitude and great pleasure in having so many of his friends and colleagues there from Bath and emphasised how a life in science had not only provided the opportunity for world-wide and extensive travel but also the opportunity for enormously pleasurable interaction with so many people and the opportunity to enjoy interesting and often lifelong friends. Finally, he touched on the value of Zen philosophy as an aid to emotional stability in the harder moments of Science, University life, and life in general.
The "formalities completed, the party continued until the late hours.