To facilitate the construction of the Polden accommodation building, changes are required to the roads on the west of the Claverton campus for the duration of the project.
Completion is scheduled for summer 2018; we apologise for any inconvenience.
Latest update:
From Monday 6 March, a section of Quarry Road will be closed for an extended period of time.
A new entrance to the West car park, which is currently under construction, will be in use.
If you want to access the eastern side of Campus, please use the main entrance on Convocation Avenue, off Claverton Down Road.
Although the Underdeck will be open in both directions, there are currently temporary road works taking place with traffic lights.
Please see plan below for the new routes for drivers (red) and pedestrians (green).
Delivery drivers have been advised to enter the Campus via Convocation Avenue; their route is signed.
Please take extra care in this area as there will be vehicles, pedestrians and construction traffic using the roads and car park.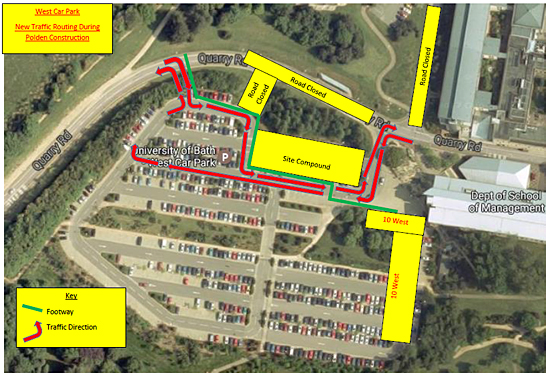 Changes already in place due to the Polden works:
The road running alongside 7W and 9W is closed. Access to the Westwood nursery is via the Claverton Down Road entrance.
Polden car park has closed and the temporary Overflow West Car Park has reopened to offer the same number of car parking spaces.
The cycle shelter on Quarry Road has closed, with alternative spaces in shelters outside 10W and at the bottom of Wessex House steps.
A number of the trees that have been removed for the Polden project will be replaced during final landscaping.
Thank you for your patience and cooperation.