Psychometrico - an app designed to help jobseekers prepare for psychometric and aptitude testing - has won the University of Bath's student Apps Crunch Competition. Top prize was a trip to Silicon Valley to meet alumni working in leading global tech companies. The winners, Martin Obretenov, Ventsislav Dimov, and Prithu Shorewalu, share their amazing – and tiring - journey on our blog.
Thursday by Ventsislav
Visiting a new country always comes with a lot of uncertainty, expectations and different intentions. This time, however we set all of that aside, like a blank sheet of paper waiting for an author to write on.
With this in mind, we arrived at San Francisco International Airport and headed towards the city with the BART (interesting name for the tube, isn't it?). We arrived at Powell Station 30 minutes later and headed towards our hotel (or was it?). A 10 minute walk under the Californian sun took us to the corner of Howard and Fifth, where we were welcomed by Karolis to StartupHouse, a co-working space.
As the name suggests this is a place where a lot of start-ups excel. However, this is somehow under appreciated. The reality was that many companies, whose services we have used are still operating from the co-working space.
After checking into the room, we hit the city. No jet lag was able to stop us from exploring what was about to become our favourite place in the world. The exploration of the area under the Bay Bridge and some of the piers exhausted us and we went to sleep with anticipation of what was about to come.
Friday by Ventsislav
Alarm, shower, authentic, however, quick American breakfast and off to business - there is no time to waste.
A short walk took us to the venue of our first meeting, the HQ of 500 Startups, one of the best start-up accelerators in the world.
We were greeted by one of the partners Marvin Liao, who somehow managed to squeeze in half an hour for us. He gave us an insight of what our potential for investment is and how we should handle this process. Furthermore, we were reminded what the most important thing in a business is - the product. With that in mind, we headed to our hotel for to debrief, which ended up in a short nap.
An hour later we were off for another adventure - an art festival in Oakland, called The First Friday. A large variety of artists and performers were exhibiting live on one of the main streets. Of course all of that was topped up with a lot of the locally produced beers and beverages.
Saturday by Ventsislav
The morning started in a similar manner as the day before, with the only difference that there was no breakfast. We had planned to eat later with family friends of Martin's. They picked us up in their car, and we headed towards the city. Halfway through, however, the plan was changed. We drove across the Golden Gate Bridge to the town of Sausalito, which astonished us with its wonderful views of San Francisco and the bay. After a wonderful brunch at an Italian pizzeria, we headed back to town. Or maybe not?
We got off at the end of the Golden Gate Bridge and started walking back, which we later discovered was an exercise performed only by tourists. No sane person would walk in such a wind for more than 40 minutes.
After finally getting some rest, we headed back to the city for an appointment with my cousin. We explored the nightlife of San Francisco, which is another reason to fall in love with the city.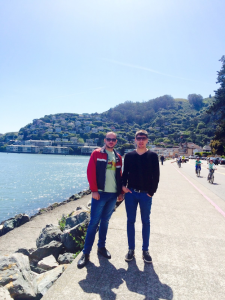 Sunday Ventsislav
The last free day, before our busy week starts was another day of exploration. We headed towards the Caltrain station and grabbed tickets to Palo Alto to head to Stanford University.
There we met Prithu's sister, who guided us around the campus. We got to the top of the famous Hoover Tower, which gave us a bird's eye view on the whole campus. The place looked like a tropical beach resort, one that educates some of the most intelligent people in the world.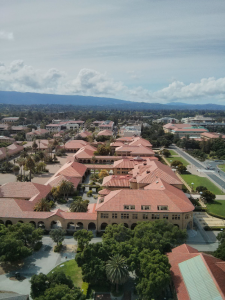 After our tour ended, we headed towards the campus' restaurants, where Prithu arranged a meeting with a friend of his. He works for a start-up doing semantic analysis - one of the new trends in the software industry. After a comprehensive talk we headed back to the hotel - we needed to prepare for our first set of meetings.
Monday by Martin
On our first day of meetings set up from the University we were not very sure what to expect.
The very first meeting that we walked into left us speechless!
We were expecting to see the CFO of Littler Mendelson, the largest U.S.-based law firm exclusively devoted to representing management in employment, employee benefits and labour law. Not only did we had more than an hour of talking with Mat, the CFO and Bath alumnus, but he had invited to our meeting his own external legal adviser and the managing Shareholder of the San Francisco Office.
With the amazing view from the 28th floor meeting room we were taken through a presentation: 'Top 10 Mistakes Startups Do That Can Get Them Sued'. The talk was exceptionally insightful. Additionally, the CFO's personal legal adviser gave us advice on setting up a business in California and the US in general, and shared best practices within the domain. Ultimately, we connected with powerful, wise and friendly people at senior positions in the Valley, and got what we later realised to be free consultation that would otherwise have cost tens of thousands of dollars.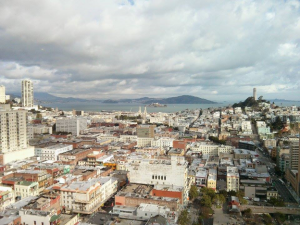 Our second meeting was with a company very few would not recognise - JPMorgan Chase & Co. We got the opportunity to pitch our idea and get input from experts at prestigious positions such as the VP of Digital Product Marketing and VP of Corporate Social Media. Their insight helped us think of our idea of www.psychometri.co from new angles and grow our understanding of how the idea could evolve.
Our third meeting swept us off our feet. We met with Anthony Lye, President and CEO of HotSchedules. Anthony's business seems to be on track to revolutionise the restaurants market industry. Having been acquired by TPG in 2013 it works hard towards its goals and both management and employees share a unique culture of learning, developing and growing. Anthony and his colleagues talked us through what it means to be part of a company that has learned to crawl, walk and then run.
The inspiring meeting was complemented by a wine and cheese reception and a view over Bay Bridge as Anthony shared stories from the times he worked closely with people such as Larry Ellison, the former CEO of Oracle and the third-wealthiest man in America.
Tuesday by Martin
On Tuesday we had a single meeting scheduled, but what a meeting it was. University of Bath alumni Natalie and Simon founded Lanyrd - a social conference directory – in 2010. They built a product that people love, resulting in uncontrollable growth and ultimately landing them in a Y Combinator batch in 2011. Being backed by one of the most famous American seed accelerators, their company grew and was later acquired by Eventbrite. Now, being part of a company that grosses more than $2 billion in ticket sales (according to 2013 data), Natalie and Simon face new challenges head on.
The tour of the company gave us a great insight into how an organisation changes and evolves and what a great impact a good company culture has. Natalie and Simon spent more than an hour and a half with us over lunch and gave us practical tips on everything from setting up a business, to running it, negotiating and ultimately selling too. Luckily for us we picked up freebies, so if you see us around campus with an Eventbrite hat on you will know where it's from.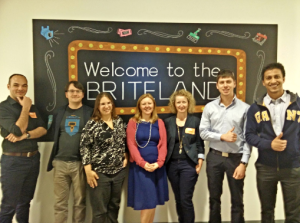 Wednesday by Prithu and Ventsislav
Wednesday started with a beautiful drive down to the headquarters of Facebook. While listening to the hip tunes on the radio, we drove on the freeway along the bay, getting an exciting tour from our star fundraiser and guide, Stephanie. We parked and then headed towards the "thumbs-up" sign outside the office. After all, a visit at Facebook does not count if one does not have a picture taken at 1 Hacker way.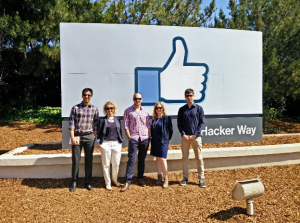 What was interesting about the sign is that on the back there was a logo of Sun Microsystems, the previous owner of the campus, which was intentionally left there as a symbol that nothing stays forever.
After taking care of the mandatories, we headed towards the reception, where we met Andy Warr. We walked across the main entrance, and ended up at the back of the building, which seemed something ike a small town. There was everything one might need. There was food and drinks places, including a store which served ice-cream, cookies, muffins and everything one could imagine. Employees benefit further by the gym, the dry cleaner and many other perks, which are offered in most cases for free.
We grabbed some of Facebook's famous BBQ and sat under the California sun for a lunch. Our host shared with us his experience of working at some of the world's biggest IT companies Microsoft, Google and now Instagram as part of Facebook. Of all the useful things he told us probably the most valuable quote from him for the day, was "never say you don't know something" and that resonated with this entire experience.
After we finished our lunch, we headed on a tour of Facebook's campus. We saw the biggest touchscreen we have seen so far, which was an interactive map of how people across the globe are connected with each other. Then we took a photo in the car that went for more than 5000 miles promoting Instagram across the US. After that we went to Instagram's gravity office for another set of fantastic memories.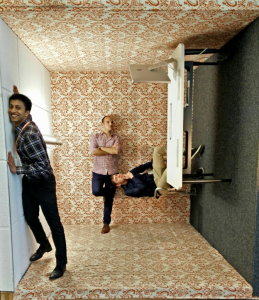 At that point of time, we thought that nothing could top this experience, but we were wrong. After a five minute bicycle ride, we arrived in front of Facebook's new building which was opened only a week ago. No words can describe how enormous that open plan office is. The interior is intentionally designed in a way that seems unfinished in order to communicate that everything is under development. All of the areas and meeting rooms in this building were given names from famous TV shows and games, such as Game of Thrones, which brought a smile on our faces. A parallel between the building and the University of Bath was the vending machines situated all around, with the only difference that the ones at Facebook were 'serving' high-end headphones, batteries and other accessories. In the middle of the building we saw Mark Zuckerberg's office, unfortunately for us, he was not there.
After we had walked the length of the entire building, we took the stairs to the roof. Of course, we have already heard that the roof is the world's largest roof-top garden, but we were totally unaware of what was about to come. The size of that garden was so enormous, that after spending a minute walking around the alleys we totally forgot that we were on a roof.
After finishing our walk in the 'park', we took the shuttle to the main campus and headed back to San Francisco.
Thursday by Martin
Our last Thursday was by far the busiest and one of the most rewarding days.
We started off with a tour and meeting at the StumbleUpon office. David Marks, VP of Products there sat down with us over breakfast and shared insights from his career and the company. We got tips on everything from UI and UX design to user testing and how one should think about Product Management in the context of highly technological organisations. David was very cool and open and gave us lots of concrete pointers to help us take Psychometrico further.
Our second meeting was at Dialect with the company's CEO, John Gower. As he entered the room you could feel the presence of a strong salesman and a leader. John's experience from Bath, all the way to running his company at the heart of San Francisco, impressed us greatly and we picked his brains on things like how he set things up, what challenges he faced and what his vision for the future is. Surprisingly his very first questions about how we plan to sell and position Psychometrico had us think of new approaches in terms of partnerships - something that Dialect is, in a way, based on.
Our third meeting was different from our others as it was at TPG Capital, one of the largest private equity investment firms globally. There we met Alastair and Charles Bushby. Alastair is a Bath GIMML graduate and has had a fantastic career development. He shared with us all the work he and TPG Capital do and gave us a broader view on the start-up industry from a whole different perspective. In contrast to Alastair's focused career development, his brother, Charles, shared with us his interesting and varied career path across industries, positions and locations. He has a background focused on marketing, digital and creative and at present he works in Ernst & Young in San Francisco.
The pinnacle of our trip was the event at Tesla's headquarters. Apparently, when one buys a Tesla he or she is put on a two year waiting list for a tour of the manufacturing facilities. We had the privilege and pleasure of not only going through the tour led by a very passionate Tesla employee and the VP of Manufacturing, but also to meet and talk with 30+ successful, influential and, simply put, interesting Bath alumni. We also met with George Kalligeros, a current University of Bath Mechanical Engineering student, who was on an internship at Tesla in San Francisco. At the end of what was an amazing tour we had the opportunity to present our idea to all the guests and this was followed by a talk from the VP of Manufacturing, Gilbert Passin.
All the successful individuals we met at the event were very humble, down-to-earth and ready to share their experiences and provide help. They were also a lot of fun - one Bath alum took us on a ride in his own Tesla just before the event started!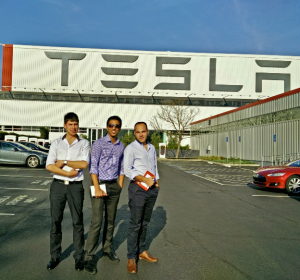 Friday by Ventsislav
Our last 'working' day in San Francisco started of at the famous Runway incubator, which supported companies such as Oculus Rift. The place was a big open-space office accommodating start-ups aiming to attract further investments or acquisitions.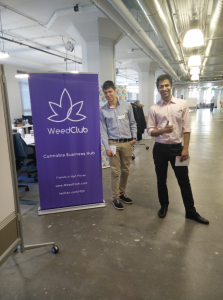 Our first meeting was with Mark Hampton, who is a Principal at The Halo Agency – a start-up growth engine aimed at designing highly tailored marketing strategies for technology companies. He listened carefully to the plans we had for marketing our start-up, and provided us with an insight into how such a thing should be executed. The most valuable advice was definitely that we need a clear vision of what we want to achieve and then employ the necessary tools and not vice versa, something that we missed while preparing for the competitions we entered.
The next meeting was with Jazz Toor, who is a Chief Product Officer at Bill Forward, a company focused on helping its clients enter a service based economy. Apart from that he is also an experienced angel investor. Our team presented the idea behind Psychometrico and we received a lot of feedback, mainly on how to talk with investors. This meeting left us with a huge to-do list, focused on what we need to prepare for our business plan and what we need to strengthen from what we already have.
Our last meeting in San Francisco was with Dominic Brennan who began his career as a management consultant. Later on, the company he was working for split and he took part in the management buyout of the US division, which he is currently developing. The meeting took place in the friendly atmosphere of a burritos restaurant, which served as an inspiration of the UK's Mission Burrito chain. Dominic impressed us with his openness, experience and unconventional future plans.
Overall summary
Team Psychometrico would like to thank Siobain Hone for her dedicated work on the Entrepreneurship Program at the University of Bath, as a result of which this trip took place. We would also like to thank Stephanie Lear who used her extensive network of Bath alumni to arrange all the meetings. We would also like to thank Alex Marshal and Aiste Senulyte for their ongoing support to the project. Furthermore, a big "thank you" to all Bath alumni who we met for their valuable advices.
The trip as a whole provided us with a solid understanding of how people with similar background as ours place themselves in one of the most competitive labour markets in the world. Furthermore, it gave us invaluable insight into what the life of an entrepreneur is and what challenges there are. Moreover, it expanded our view on how a University of Bath student might proceed with his or her future career development by showcasing a lot of success stories.
A key takeaway is the advice that we do not necessarily need to stick to our business career path. We could pursue a different career development, thus achieving a more diverse skillset giving us better career opportunities.
We believe the Apps Crunch competition with its current prize is an invaluable experience for students like us to expand their personal networks and foreign insight. Team Psychometrico is looking forward to developing the product and idea and to help other students. Perhaps one day, in the near future, we could be on the other side, helping students develop and learn.