Before I started university, I was excited for a fresh start. I had made it my life's mission to avoid being known for my disability- Cystic Fibrosis (CF), a lung and digestive system disease- all my friends were aware I had it, but nobody really knew what that meant, and in an attempt to avoid being seen as my illness, I wanted to keep it that way. This avoidance was not something I intended to change. After all, I am more than my dodgy lungs, so why make them my personality?
Now that I have completed my 2nd year of studies in Bath and I sit here literally typing a blog post about the very topic (spoiler alert, plans changed), I feel somewhat qualified to tell you all the reasons I was wrong, and why choosing the University of Bath as the place to study pushed me into embracing the fact I have an invisible disability.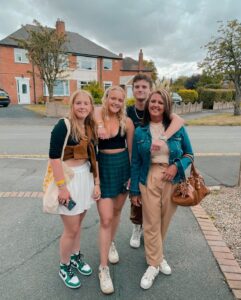 It's true, University is a great time to re-invent yourself.
You have probably heard this before, and although I don't condone changing your entire personality before starting university- (you're probably already great and it will not be a sustainable choice)- I do think that moving out of your hometown and basically changing your whole life does provide you the unique opportunity to become the best version of yourself. I initially thought this meant pretending my CF did not exist. After all, I am so much more than my disability.
However, the encouraging nature of the people I chose to surround myself with in Bath forced me to discover that my CF may not be my entire personality, but it is a key factor in making me who I am- and, if anything, just makes the person I am more unique- I literally ran a marathon when I was 19 despite having a lung disease, and I believe this should be shouted about, to show what I can do whilst having an illness, not hidden in an attempt to prove I am 'normal'.
Therefore, the reinvention of myself in Bath included embracing the disability I have and being the person it has made me today with pride.
I really hope anybody reading this with a disability, visible or invisible can embrace the person they are too, you're amazing and do not need to prove anything, even if it takes you a little while to realise it.
The ability to see my disability as an opportunity.
I mean this in multiple ways, not only did disclosing my CF mean I qualified for a disabled student
accommodation in my first year (a huge win in itself), which was a perk for just being honest on some forms about my circumstances (in which I would ordinarily just tick the "no disability" box as a result of internal denial)- but luckily I decided to be honest with some forms and get extra support.
Also, the opportunity I was given by the University of Bath to educate and (hopefully) inspire people on being honest and proud of their disability. This is in the form of blog posts I have written, (this is number 3!) and being the social media director of the Disability Action Group (DAG) throughout my second year, which allowed me to meet a range of incredible people and be a small part of an amazing community, which would not have been possible if I wasn't honest with myself regarding the fact I do have an invisible disability. This opened my eyes to the fact I am not alone and pushed me to become a better version of myself, taking help and listening to others will never have negative consequences!
Support is very accessible.
The welfare support office is available to all students, as well as any extra support which may be needed, such as financial advice or a Disability Action Plan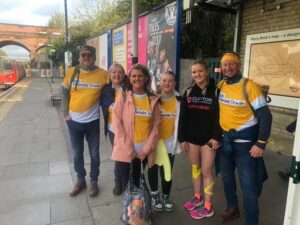 (DAP)- which involves a personal meeting, focusing on any exam support such as extra time requirements any student may need. Having this support as an option was very helpful for me, especially in my first year since moving out of home is a big step for anybody, but this stress can be even larger if you identify as disabled, so be aware support is always available if you need it and you do not have to suffer in silence!
The amazing and supportive friends I have met along the way.
I am nothing if not an advocate for the people I have met in Bath, the last 2 years at this university has shaped the person I am today, but I would be nowhere without the people I am friends with.
I am in a very fortunate position to have the friends I have made in Bath, who don't wal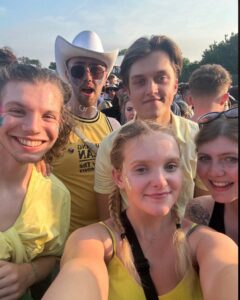 k on eggshells around my disability, but are genuinely interested and supportive with my CF, asking questions and even making jokes, which really showed me my CF is just a small (but important and interesting) part of the person I am.
I really hope anybody who attends university finds 'their' people!
Overall, being proud of having a disability is not an easy journey to take lightly, but with the right support, finding and embracing the person you are is the best possible thing you can do. You are not defined by the things making your life harder, they just make you a more interesting, incredible person and I would hope for everybody to embrace what makes them unique.