Throughout February, I was involved in a number of LGBT+ History Month events at the University. Of course, I also continued with finalising plans for my online interviews and have started to make progress on my thesis, as I said I would.
Something I have come to appreciate more recently is the value of being creative as a means of thinking creatively. In this blog post, I share some of the creative things I have been up to and how they have helped me with my work.
Jump Start Your Creative Mind Workshop
At the end of February, the Centre for Digital Entertainment (CDE) organised an online workshop with artist, author and illustrator Sara Pinto. Sara sent us all a wonderful package of materials to use in the online session, which we used to make collages.
Receiving a pack of goodies in the post was wonderful in itself and the workshop was just as enjoyable. Naturally, everyone used the materials we had been sent in different ways. Here are some of my creations:

Throughout the lockdown(s), I have also been involved in other art groups, which has helped me to tap into my more creative side. I certainly feel more comfortable with trying new things without the worry of failure. The process of exploring different techniques, like drawing and collage, has unlocked some of my innate creativity, in turn helping me to think through problems in different ways.
Sketching as Planning
I recently started using a blank notebook I was gifted as a scratchpad and to-do list hub. The freedom to sketch, write and layout my thoughts organically is very helpful; I think I underestimated the power of pen and paper!
An example of this is when I came to planning what to show in my online interviews. I knew that it would be a combination of content from previous studies, but I had to rethink the layout of certain things. Although it might look messy, the notes below were very productive for me personally.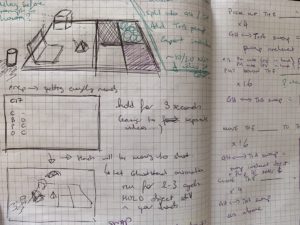 Thesis Drafting
Another way being creative has helped me recently is when I started to structure my thesis. The CDE organised a writing workshop at the beginning of March for EngD students. The workshop was very useful for helping us think about clarity of writing, but I took the 'writing time' we were given to structure my thesis.
I think the art workshops I have taken part in subconsciously had an effect on my approach: Although I did not need to start from scratch, I decided to take a 'blank page' approach and asked myself, "Where would I start if I was starting from nothing?".
The freedom of a blank page allowed me to think creatively within the boundaries of what content I know I already have and what new content I expect to produce. I managed to come up with an overall structure for my thesis using the 'blank page' approach and am ready to bring together existing snippets from my transfer report and paper drafts.
CHI2021 Video Presentation
There is another opportunity coming up for me to get creative. By the end of the month, I need to submit my video presentation for CHI. How will I decide what the video will contain?
Naturally, I went back to my scratchpad to get started with some ideas...