In the last in our series of posts about 2023's Climate Action Survey results, we take a look at its key findings and highlight the ongoing priorities for the University and the Climate Action Team.
As the University continues its efforts to address the pressing challenges of climate change, we would like to take a moment to thank everyone who participated in our 2023 Climate Action Survey. Your thoughtful responses have provided us with valuable insights into how we can continue to make progress in this critical area.
In this final article, we provide a handy round-up of the key findings from the survey results and highlight the breadth of work being done by the University to address climate change through our Climate Action Framework (CAF).
It is important to share the results of this survey with our community and raise awareness of the University's ongoing commitment to climate action. This survey was completed by 4764 respondents, representing 41% of University staff and 14% of students. We are grateful for the enthusiasm and commitment demonstrated by our community in this important endeavour and we look forward to continuing to work together towards a more sustainable future.
Our series of blog posts over the last few weeks have shared insights from the latest survey. Overall, we have found that the community remains engaged with the subject of climate change and largely supports the University's actions to date.
Students and staff unite in calls for strong action
Key finding: Students are motivated to make individual lifestyle changes to help the environment, but face barriers when it comes to making those changes a reality.
From climate anxiety to action: How to make a difference in the fight against climate change
Key finding: 92% of students and staff have felt some level of worry about the climate.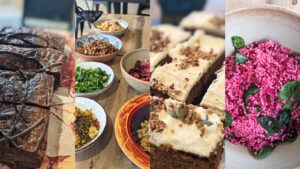 Changing the way we eat: A sustainable diet for a sustainable future
Key finding: 68% of students and 51% of staff are aware of the University's Sustainable Food Commitment, introduced in 2022.
From theory to action: Bridging the gap to a sustainable future with research
Key finding: 29% of staff and 38% of students are conducting research that aligns with a 1.5ºC future.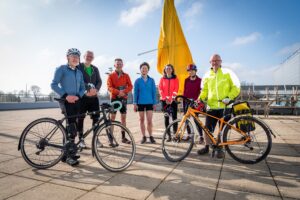 Travel smart to save the planet: Are your commuting habits impacting the environment?
Key finding: Students and staff are supportive of measures to incentivise low-carbon commuting and to disincentivise higher-carbon alternatives, with most support focused on bus service provision.
Systemic transformation and individual action: Keys to addressing the climate crisis
Key finding: 43% of students feel that their personal contributions to tackling climate change are not sufficient, while 47% of staff acknowledged that they contribute less, or far less, than required in relation to their day-to-day job role.
Students and staff working to support Climate Action Education
Key finding: 68% of students experience climate or sustainability education through their course, though with great variation as to how embedded this is. However, just 51% of teaching staff are delivering climate or sustainability education in their practice.
"Collectively as a university community we have the capacity to make great contributions to mitigate and adapt to the challenges of climate change through our research impact and our education programmes. As individuals our contributions may seem tiny by comparison, but collectively how we work and live our lives can add up to so much more. The clear motivation for action demonstrated across our community is positive as we seek transformative change."

Professor Pete Walker, Climate Action Chair
Leading the charge on climate action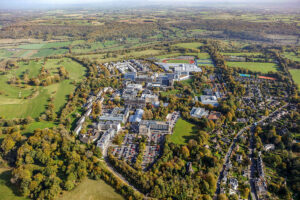 CAF provides a comprehensive vision of how the University is reducing our carbon footprint and tackling the urgent challenges of climate change. It includes our aims for achieving carbon net zero by 2040 and outlines a range of initiatives to reduce our greenhouse gas emissions. It is important to note that these targets are just one aspect of the University's broader efforts to promote sustainability and reduce its environmental impact. Our whole institution approach includes initiatives to reduce waste, conserve resources and promote sustainable practices across all aspects of campus operations, and embed it within our education, research and partnerships.
It goes without saying that it is important for the University to prioritise climate action because of the urgent need to address the challenges of climate change. As an institution of higher education, we have a responsibility to lead by example and to equip our community with the knowledge and skills they need to be agents of change. By prioritising climate action, we can help to reduce our carbon footprint, promote sustainable practices and contribute to a more equitable future for all.
However, results from this year's survey show that although our community believes the University is taking meaningful action to tackle the climate emergency and operating with an adequate scale of response, they considered it to be at an insufficient level of urgency.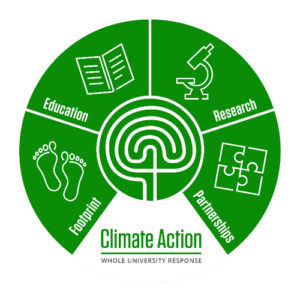 It is important to note that the challenges of climate change are complex and multifaceted and no single initiative can solve the crisis on its own. Therefore, it is essential for the University to continue to prioritise climate action, collaborate with external partners and stakeholders and work towards a net zero future.
Taking the next steps: Climate Action priorities
Determining what the University should be focusing on to address the climate emergency is an important question that requires careful consideration and collaboration across the whole of our community.
Based on the survey results and the current work being done by the Climate Action Team, the areas that could have the greatest impact include:
Increasing awareness and understanding of the importance of climate action among staff and students, promoting sustainable practices and behaviour change and embedding sustainability in research and teaching.

Collaborating with external partners and stakeholders to promote low carbon practices across the wider community and to influence policy and practice.

Accelerating the transition to renewable energy sources and reducing the carbon footprint of university operations, including energy-efficient buildings and low carbon transport.
The University can continue to make progress in tackling the climate emergency while recognising that change in this area can be challenging and complex. As an institution with many competing priorities, the University is on a journey towards sustainability and acknowledges that there is still much work to be done. Despite these challenges, the University is actively pursuing initiatives to reduce its carbon footprint and promote sustainable practices, while also balancing the needs of its diverse community and fulfilling its core mission of education and research. 
Through ongoing engagement and collaboration with stakeholders, the University is striving to create a culture of sustainability that inspires and empowers all members of the community.
Once again, thank you to everyone who participated in this year's Climate Action Survey. Your feedback and insights will be invaluable in helping to guide our efforts towards creating a more sustainable and climate-resilient future. 
As a community, we must continue to come together, work collaboratively and make bold decisions to address the pressing challenges of the climate emergency. By supporting the University's climate action efforts, we can create a better world for future generations. 
Together, we can make a difference.
---
This survey was conducted in November 2022.

This survey was completed by 4764 respondents, representing 41% of University staff and 14% of students.

This survey was commissioned by the Climate Action team with methodology devised and results analysed by Professor Lorraine Whitmarsh, Dr Paul Haggar and Kaloyan Mitev.

Members of the University of Bath community can access the collated survey data.

If you have any questions about this survey, please contact climateaction@bath.ac.uk.