Back in 2017 we developed and launched a suite of Successful Reflecting Writing digital modules, hosted in an externally supported software called Adapt. In summer 2018 with substantive developments to Xerte, a University supported Technology Enhanced Learning tool, we decided to review whether it could be used to relocate the Successful Reflective Writing digital modules, while maintain the same high levels of student (user) experience.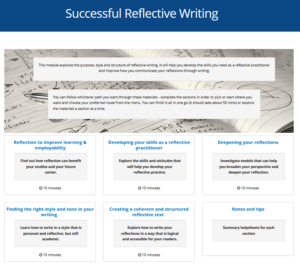 Why would we want to re-create it?
the ongoing subscription for Adapt is wasteful considering we have a tool available, in-house, that could provide almost identical functionality for no additional cost
editing the resource in Adapt was difficult because only the developer had full access and had the skills, increasing the time required to maintain and develop the resources
Xerte is available to all University users, allowing staff to be nominated as 'editors' so that the resource can evolve as required
Xerte provides a duplication function so that additional contextual versions can be created easily (e.g. with subject specific imagery or department specific terminology)
Xerte resources are accessed by a simple URL which are easily added to Moodle courses
There are a few features that were possible in the Adapt versions, which at this stage we have been unable to reproduce in Xerte:
build in a progress bar checker to persist across pages
build in a bookmarking facility so users could come back to where they left off
make all the interactive elements responsive in portrait mode on smart devices
However, we're still working on these elements and are confident we'll get them to work too.
The resource includes the following types of media and interaction.
| | |
| --- | --- |
| Activity | Function |
| Flash cards | Content on two sides of a flippable card |
| Slide shows | Content chunked into connected sections |
| Quizzes | Multiple choice and multiple answer for self-assessment (with feedback) |
| Video | Staff and student views expressed |
| Audio | Staff and student views expressed |
| Notetaking | To consolidate understanding, compare to feedback and to practice reflection |
| Writing practice | To produce examples of reflective writing |
The digital modules are currently available to support students undertaking a range of reflective writing assignments on Moodle courses in Engineering & Design, Humanities and Social Sciences, Science and as part of the Bath Award run by the Students Union.
If you have reflective writing assignment on your Unit, you can embed this link to a generic version of the Successful Reflective Writing digital module or email us if you'd like support in doing this.
If you'd like to discuss an adaptation of the resource for your specific needs, please get in touch by emailing us and we'll arrange a meeting to discuss this with you.
If you are interested in exploring Xerte for other projects:
Yvonne Moore, Learning Technologist (Online Learning), CLT