Mentimeter is interactive presentation software which enables educators to use a wide range of interactive slides to pose questions, gather feedback, and connect with their learners in an inclusive environment. Through the range of slide choices and predesigned templates available to use, you can keep students engaged while assessing knowledge, and kickstart discussions with prompts.
While learners can use their own devices as a voting tool and therefore take a more engaged and active role in lectures and seminars, instructors can collect and analyse responses instantly (and use this to address misconceptions), or after their sessions through automatically generated reports.
Some of the core features of Mentimeter include, but are not limited to:
Dynamic word clouds – a vibrant way to visualise your audience's ideas
Live and instant polling – you can let your audience vote on any questions you may have for them
Quizzes – run factual, fun or icebreaker quizzes
Informative Q&As – let your audience ask questions anonymously
For support and advice about using Mentimeter, contact the Technology Enhanced Learning team: tel@bath.ac.uk
--------------------------------------------------------------------------------------------------------------
Case Study One: Mentimeter for Learning and Reflection
Background context
This case study was written by Cressida Lyon, a Biomedical Sciences Lecturer in the Department of Life Sciences about her experience of using Mentimeter with approximately 75 undergraduate Year 2 students.
Purpose
Mentimeter was used to encourage active and case study-based learning in a large group setting throughout a series of lectures on human physiology and pathology. A combination of multiple-choice questions, open ended, word clouds and pin on image slides were used.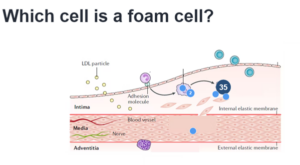 Mentimeter was also used as a method of checking in with students to see how they were feeling as well as getting informal mid-semester feedback on my lectures. A small amount of pre-learning (20-30 minutes per week) was provided to allow time in class for these activities. In previous years, Turning Point was used.
Outcomes
My own reflections of this approach to teaching are very positive. Students are engaged and keen to participate. I encourage them to discuss the question with the person next to them before answering, and it appears to inspire a deeper understanding of the topic. It is less stressful than putting their hands up, and it encourages more students to have a go at answering the question. It is also very useful to pick up any misunderstandings at this point and provide some additional clarification.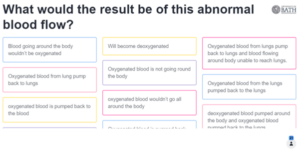 Student feedback indicates that they found the in-class quizzes useful (4.5/5 on a scale of strongly disagree to agree):
"I'm enjoying the quizzes, nice break from taking notes and strengthens understanding"
"I really like the case studies at the end of each of the lectures"
"I'm enjoying the active learning within the lecture to help back up my understanding"
"I enjoy the Mentimeter tasks"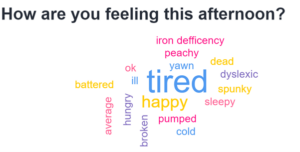 The pros of using this approach are that it increases active learning, enjoyment and understanding. Mentimeter has more question type options than Turning Point did, including the free text entry. It is very interactive and immediate. The cons of this approach are that it takes time to plan authentic and useful activities. It would be useful if Mentimeter could integrate into PowerPoint in the same way that TurningPoint did*, as it is awkward having to flick from PowerPoint in presentation mode over to Mentimeter (it doesn't always go to the correct window when you click alt-tab). It is currently only possible to do this for 4-5 questions and it went a bit hay-wire when I tested it out. The word limit for question text is short, so I have had to re-word my case studies and questions or save them as an image file.
*Update: Since this case study was shared, Mentimeter have introduced a PowerPoint plug-in. As for word limits, the open ended question type response allows for 250 characters but if learners have multiple ideas, you can allow them to vote more than once from the same device.
Recommendations
The key to using Mentimeter to improve the student learning experience is to design questions that test understanding and application rather than memory.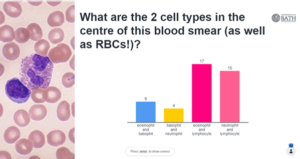 Using "multiple choice" to check student understanding
With the topics that I teach, I find using medical case studies work well, asking the students to not only identify the disease, but also to explain why the symptoms occur.  The free text option works well for this, as students really have to think for themselves (rather than selecting multiple choice options). I tend to read through a selection of the answers and provide encouragement and explanations.
As for a practical tip, it took me a while to realise that you can 'hide results' on all slides in a Mentimeter presentation. Without this function, the students can see each other's answers straight away, which can prevent students from thinking for themselves.
Useful links
Mentimeter guidance on the CLT Hub
PowerPoint plugin and integrations | Mentimeter Help Center
Mentimeter's Accessibility Statement
Read two additional case studies about Mentimeter on the next blog post.