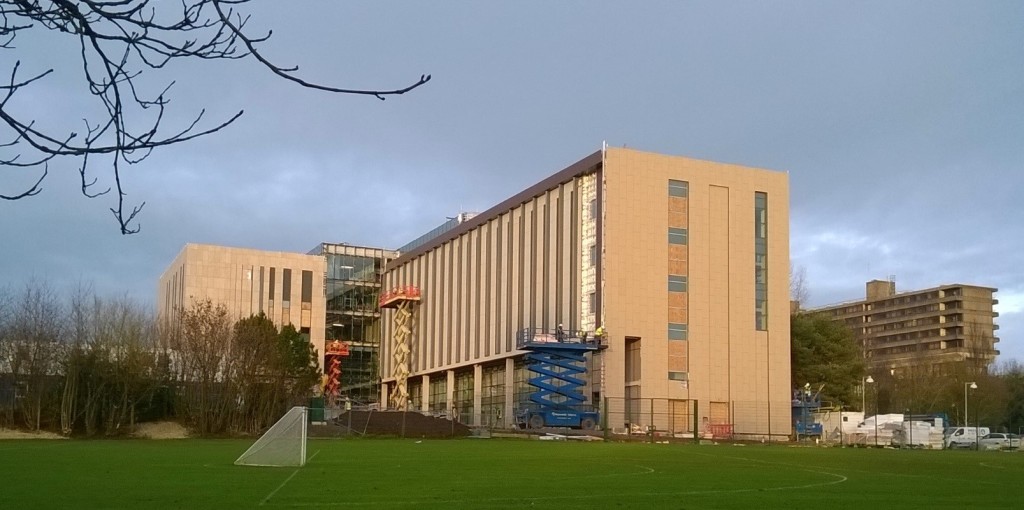 The project remains on schedule despite the winter weather conditions:
Work on the building's façade is progressing well and the installation of the final composite tiles is nearly finished.
Internal works continue to make good progress with the installation of glazed decorative screens.
Floor finishings to wet areas are nearly finished.
Final fix carpentry is nearly finished.
Final finishings to the main entrance and Atrium staircase have begun.
Installation of glass balustrades in the Atrium has been completed.
Access scaffolding in the atrium is being removed to allow the final works on the floor to begin.
Structural work on the main entrance and podium walkway has been completed.
Installation of the steel framed walkway to the Podium will begin in early February.
Landscaping work has begun and the connection to the 8 West ramp is nearly finished.
The site team's office will be removed in March so that major landscaping works can begin, and a smaller temporary office will be installed.
Health and Safety
There have been no injuries or accidents on site, reviews continue to ensure a safe environment for the site team and pedestrians.
Noise
The noise levels will continue to be the same as previous months.
Did you know…
Since the start of the construction project the site team has used over 207,200 tea bags, 22.5kg of coffee and 171kg of sugar.