It's the last Saturday of LGBTQ+ History Month 2021 and the last weekend at that!  The Queeroes series has shared the stories of numerous Queeroes who have made considerable contributions on behalf of the community to achieve equality from a less than tolerant society.
Today, we live in a much better world, one that is safer queer people to embrace themselves and live their best lives and today.  With so many stories shared thuse far I wanted to use today to reflect over this series and the stories we've shared.  Let's begin…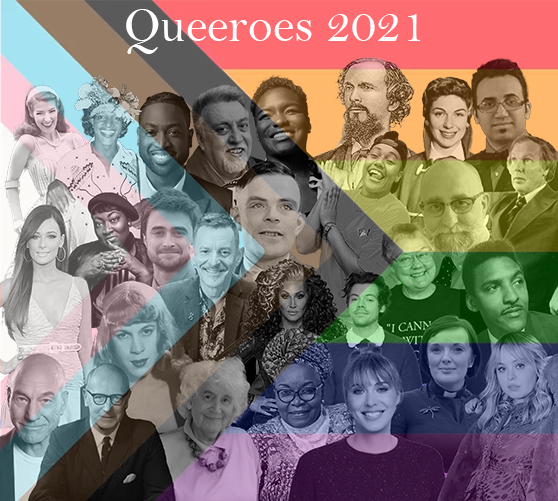 The first openly gay person to publicly speak out for homosexual rights, Ulrichs was a pioneer of LGBTQ+ activism and law reform.  His legacy is that he laid the foundation for us to champion our rights and to make social and legal change for LGBTQ+ people to exist free of persecution.
A man who made the world look up and see the colourful array that our community has to offer by creating one of the most important first steps in LGBTQ+ symbolism as the creator of the original pride flag.  Over the years the flag has evolved and been redeveloped to represent the wider community.
Johnson was a beautiful trans woman who shook society to its core.  She was at the front of the Stonewall rising and began the first major step in civil rights reform as she and hundreds of others fought back against police brutality for LGBTQ+ individuals.  Her legacy has empowered the community to live their life freely.
War hero, mathematician, computer scientist, cryptanalyst and Queero.  Turing was one of the most important people in the LGBTQ+ community as one of the leading heroes of the UK during WWII.  His work on deconstructing Nazi enigma codes save millions of lives, who was later stripped of his honour and dignity for being gay.
Forster, the actress turned journalist and broadcaster, was a civil rights activist for the LGBTQ+ community and one of Britain's fiercest heroines in the fight for equality and acceptance.  Her work as a trailblazer helped change society, culture and perceptions.
Schofield revolutionised the world of psychological and sociological research for LGBTQ+ people.  His work in bringing to light the reality of queer people as decent human beings like anyone else was pioneering and encouraged the wider debate on sexuality, social status and women's rights.
Compas is the creator of Black Queer Christmas, an event for black LGBTQ+ youth who have been abandoned by their family for being queer.  She went on to found the Exist Loudly foundation which aims to create a safe space for LGBTQ+ youth.  Her work is focusing on LGBTQ+ people of colour, an often-forgotten group within society.
Rustin was a prolific political activist for societal reform to create a safer, more equal world for black people and the LGBTQ+ community.  The gay black civil rights activist made a lasting impact that ensured the rights of black and LGBT+ people were fit for the future
Gittings was a civil activist in the fight for LGBTQ+ education.  Throughout her career she empowered thousands of women with educational resources to better embrace their identity and to not be afraid to be part of their community.
Morris was a pioneering travel writer who publicly shared her store of transitioning back in 1974.  Already in the public eye, she used her platform to show others that trans people exist and that there is nothing wrong with that.  Her writing career continued for many decades, even after her death, with a strong and loyal following both inside and out of the community.
Phyll is the co-founder of Black Pride, an annual event celebrating LGBTQ+ people of colour.  She is currently Executive Director of the Kaleidoscope Trust which advocates for global LGBTQ+ rights.
Whittle is one of the UKs leading LGBTQ+ rights activists and law reformers and is the founder and Vice-President for Press for Change.  In the 90s, he took trans rights to the European Court of Justice and set precedent on trans workers' rights across Europe.
Parsi is a civil rights activists for the liberation of LGBTQ+ individuals across Iran and Turkey.  He is the founder of the Iranian Railroad for Queer Refugees, supporting thousands of LGBTQ+ individuals seek asylum in safer countries such as the United States and Canada.
Walsh is an Irish LGBTQ+ civil rights activist and former DJ who fought for change and reform and is an advocate on LGBTQ+ education.  He currently uses his time to create an archive on LGBTQ+ culture to ensure our history is preserved.
Cowell was the first legally recognised transgender woman in the UK who hit the headlines with her story in 1954, creating wider conversations around gender and identity.  She was also one of the first people to undergo gender reassignment surgery, something which as the time could have left her deformed or even disabled.
The relationship between LGBTQ+ people religion is one that Reverend Hitchiner is trying to change for the better.  As an LGBTQ+ advocate within Catholicism, she is the co-founder of Diverse Church which aims to provide support and education and a safe space for LGBTQ+ people of all ages.
Through the use of her social media platforms, Kellgren-Fozard is a prolific advocate for the LGBTQ+ community and disabled people.  Her Youtube channel provides and open and honest insight into disabled people and she uses her channel to educate people on how not to treat people with disabilities and how to use British Sign Language.
Lees is a journalist and ardent activist for trans rights.  She uses her skills and social media platform to raise awareness of trans issues and rights bigotry in all its forms.  She is a role model to thousands, if not millions, and is making pioneering waves through the fashion and beauty world as a model, and as a staff writer for Vogue.
Nkom is a lawyer and activist from Cameroon who has spent the last 55+ years fighting for LGBTQ+ rights in Cameroon.  She publicly challenges senior authority figures to do the right thing, despite threats of prison and death.
Wolfenden held a longstanding career within the education sector and would become one of the key figures for gay rights in the UK.  He was head of the Wolfenden Committee, a working group to review homosexual law reform.  His work would lead to the decriminalisation of homosexuals in 1967.
Wade, a former professional basketball player, publicly shared the news of his adolescent daughter Zaya in 2020 and has since championed her to be the woman she is.  As a black, male, sportsman he is not your typical ally but is not afraid to stand up for what is right and encourage others to educate themselves and end their ignorance.
Daniel Radcliffe & Sir Patrick Stewart
These A-list actors have fought for LGBTQ+ individuals for years and are not afraid to show their love for the community.
Radcliffe is a big supporter for LGBT+ rights, same-sex marriage and trans equality.  In 2020, he penned a love letter to those who identify as trans and apologised for the onslaught of J.K. Rowling.
Stewart has never hidden his support for LGBTQ+ people and publicly calls out homophobia.  Famous for Star Trek and the X-Men, Stewart uses these characters as comparatives for the community and explains that if you can love them for their differences and unique lifestyles, you can do so for the LGBTQ+.
Coughlan, the stage and TV star and all-round amazing human being, is a major advocate for LGBTQ+ rights.  She uses her platform to dispel homophobia and transphobia and shares the stories of success and strike to raise social awareness.
Styles is a long-time advocate for LGBTQ+ rights and shares his love with the community quite openly through music, stage shows, interviews and through his fashion.  He supports a number of
LGBTQ+ charities through the sale of his merchandise and advocates that LGBTQ+ rights are fundamental and to think otherwise is just pure ignorance.
Musgraves has shared her love for the community for years and talks openly about how she was homophobic but has learnt to be a more tolerant and caring person.  She has created numerous LGBTQ+ anthems and is not afraid to shake up the country music scene by working with, singing about, and sharing the stories of the LGBTQ+ community.
Do I really need to say anything?
Molly Norton from the School of Management has shared her love for Nicola Adams who proves as a powerful role model for black and LGBTQ+ women.  The Smiling Assassin has pioneered British boxing as the first women to enter and win gold at the Olympics, and in the TV sensation, Strictly Come Dancing as the first same-sex couple to dance on the show.
-
These amazing individuals have made the world a much safer and secure world for LGBTQ+ people.  As Queeroes, they have pioneered change in society and law, many of which continue to do to this day.  We owe a great deal of gratitude to their efforts and sacrifices they've made along the way to enable us to be where we are today.  That being said, the fight isn't over and there is still so much to do.
I hope their stories encourage you to learn more of what it takes to make the world a better place for LGBTQ+ people and to do what is right to make that change happen.  I hope you too can discover what it means to be a Queero.